Aug 27 2012


Spirit Kalil's Mom
Tripawds is a user-supported community. Thank you for your support!
At 2 p.m. Kalil's vet made the home visit to put him out of his pain and suffering.
I snuck in one last picture with my boy, right before the vet came.  I had puffy eyes from crying since yesterday, and he has a crusty nose from a nasty fall on cement earlier in the day, but you know…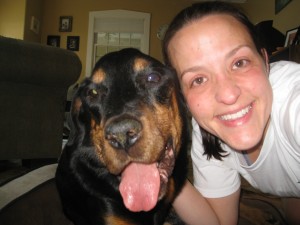 It was swift and quick.  It feels like my heart is still breaking even all these hours later.
I feel particularly nasty after griping about how I thought my husband was being a butt yesterday, when today he showed me this video he had started making for Kalil last month.  He must have finalized it with the dates last night.   Yes, I feel like a total jerk.
RIP Kalil the Tripawd Wonderdog.  You  have taught me more lifelong lessons than you will ever realize.